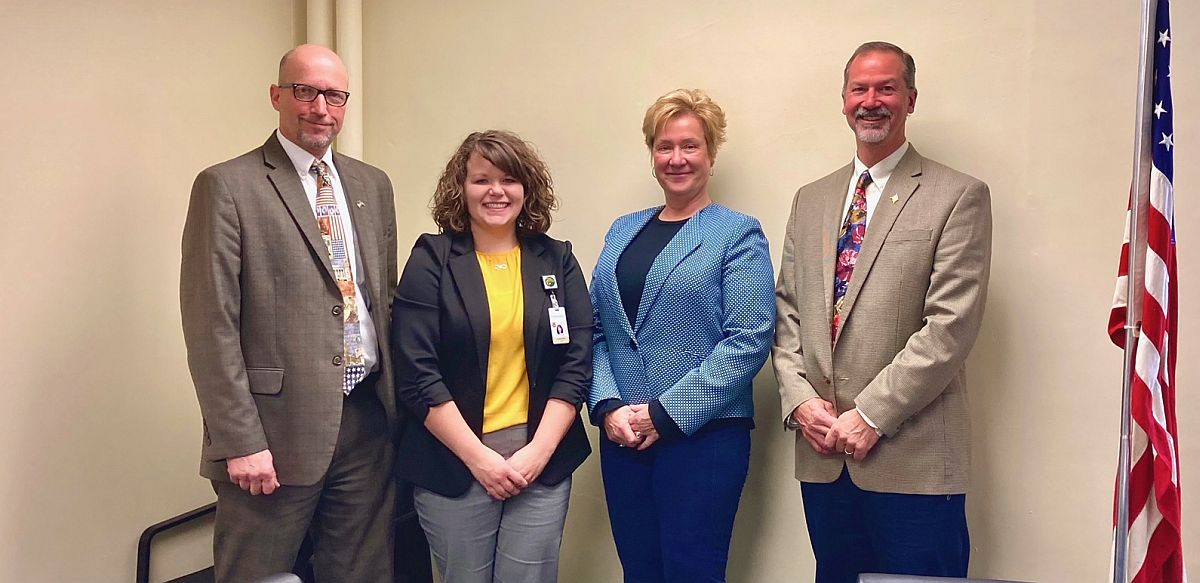 Pictured from left: Elk County Commissioner Joseph Daghir, DCI-Program Director Cortney Pahel, Elk County Commissioner Fritz Lecker and Elk County Commissioner Matthew Quesenberry.
At November's meeting, the Elk County Commissioners County of Elk, PA designated November 8, 2023 as "Parents as Teachers Day" in Elk County, and recognized The Children's Center- DCI Parents as Teachers team's service to the community.

The Proclamation included the following statement, "Parents as Teachers through Dickinson Center, Inc. in Elk County promotes the protective factors that keep families strong by increasing parent knowledge, providing early detection of developmental delays and health issues, preventing child abuse and neglect, meeting concrete needs, increasing children's school readiness and school success, connecting families with each other, supporting families in achieving economic stability, promoting healthy children in healthy homes and increasing family involvement and leadership in the community."

"Children are born into this world without directions. We offer local families parent-child activities, parent handouts, screenings, group connections that connect them to helpful resources." ~ Cortney Pahel, DCI PAT Program Director

When families were asked how this program has been most helpful to them and their family -- one parent stated, "Making me understand more about how my child grows and learn, is important. It helps me feel like we're not alone in the struggles we go through as parents."

Pahel added, "Our amazing PAT team comprised of Amanda Annis who has been here six and one-half years; Amy Murphy five Years; Brenda Wurm four and one-half years; Michele Davis two and one-half years and Jessica Sidelinger seven months is here to help support families in Elk County with children ages five and under."

The program is free and there is no income or developmental guidelines to enroll. DCI PAT is designated a Blue Ribbon Affiliate via Parents as Teachers National Center which means their program is providing the best quality services to families in Elk County. To register, please call 814.834.2602. For more information, visit www.dickinsoncenter.org/pat.