Parents As Teachers (PAT)
Parents As Teachers is an early childhood parent education and family support program serving families until their child enters Kindergarten, usually age 5. The program model consists of four components: Personal visits offer parents age-appropriate child development information, help them to observe their child, address parenting concerns and engage the family in activities that provide meaningful parent-child interaction. Group meetings provide opportunities for families to share information about parenting issues and observe their children in a social setting. Screenings are conducted to provide early identification of developmental delays and health, vision, and hearing problems and increase parents' understanding of their child's development. A resource network helps families identify and connect with needed resources, and overcome barriers to accessing services.

Children's Center
The Children's Center allows the Parents as Teachers program to offer an extra learning opportunity to Elk County. The center promotes unstructured, child directed play experiences for children through kindergarten age. Play is essential to a child's healthy development, with research proving that it stimulates brain growth. Play allows children to use their creativity while developing imagination, dexterity, and physical, cognitive and emotional strength. This fun developmentally appropriate play environment offers young children and their families an opportunity to play.
Children's Center Lending Library
The lending library consists of children's literature books, educational software and videos, adult educational materials and other resources to support our families and schools for children between the ages birth to five. These materials are available to parents, children and schools in Elk County.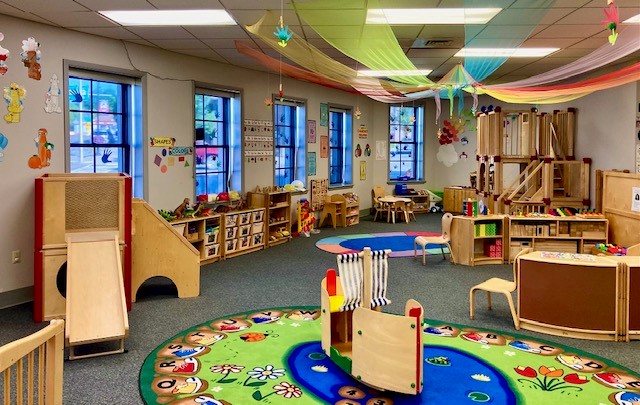 Children's Center Hours
Hours of operation are from 8:00am – 4:00pm.
See current calendar at the top of this page.
Contact 814.834.2602
Geographic area of service:
Elk County
Admission criteria:
Elk County family with children from birth through Kindergarten entry.
Home visits are scheduled at the convenience of the family.
How consumers pay for service:
There is no charge for this service. The program is funded by Elk County Children & Youth Services, St. Marys United Way, Harrison & Muriel Dauer Stackpole Fund, and the Elk County Development Fund.