Blended Case Management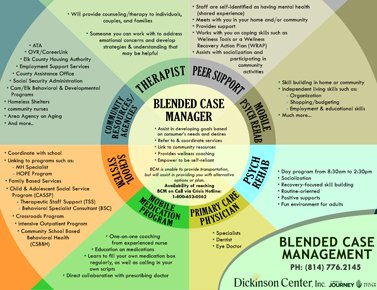 Description of service provided:
Blended Case Management is a voluntary program that provides services to adults and children with a primary diagnosis of mental illness. These consumers also must meet specific mental health criteria established by the Commonwealth of Pennsylvania to participate. Case Managers assist their consumers in gaining access, coordinating and monitoring necessary mental health, medical, social, educational, and other eligible services to successfully remain in the community.
The frequency of contact is determined by need, but at minimum, should include every 30 days for children and adults.
Consumers also have the availability of utilizing the Crisis Hotline after hours to reach the on-call case manager.
Forensic case management:
A Blended Case Manager is available to coordinate with the Elk County Prison and Dickinson Center, Inc. Forensic Program to assist with coordinating treatment and accessing services while in the prison setting, as well as the transition from incarceration into the community.
Geographic area of service:
Elk and Cameron counties
Admission criteria:
Children's Case Management Referral Form
Adult Case Management Referral Form
How to access service:
Referral form completed by a provider, which includes documentation of mental health diagnosis and criteria. Self-referrals may also be made by calling the Program Director at 814.776.2145
Address and hours of operation:
Mailing Address:
43 Servidea Drive
Ridgway, PA 15853
Site Locations:
Elk County
43 Servidea Drive (along Rt. 219)
Ridgway, PA 15853
Services are provided using both traditional and non-traditional hours.
How individuals pay for the service:
Consumers do not directly pay for this service. Funding is provided by Medical Assistance, Community Care Behavioral Health or Cameron/Elk County MH/MR program.